Both have passed rigorous clinical trials and achieved equally accurate results as expected.
The accuracy of consecutive temperature measurement is outstanding.
Eardrum shares the same blood supply with hypothalamus, the temperature control centre in the brain, so measurement of ear temperature can accurately reflect the temperature of the core body.
Generally, the Braun forehead thermometer:
Takes children's temperature accurately with an average deviation of ±0.3 during clinical trials
Takes adults' temperature with a very slight positive deviation, performing much better than the clinical standards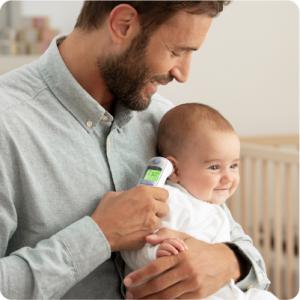 Certain factors may slightly affect the accuracy of temperature reading.
E.g.: the distance between you and the thermometer, the skin's condition, and the indoor and outdoor temperatures, etc.
To ensure accurate temperature reading:
Try not to take the temperature reading immediately after being physically active
It is preferred to take the temperature reading after staying indoors for at least 30 minutes
Take readings between your eyebrows, or up to 2.5 cm away from forehead